The Nethris Internet Suite is getting a brand new look!
May 12th, 2022
At Nethris, we take the needs of Canadian entrepreneurs to heart which is why the Nethris Internet Suite has changed to better suit our clients' usage. We now offer a more modern, secure and robust solution, focused on your needs! Are you curious to know more?
Navigation
Say goodbye to the classic top cascading menu. Instead, to enhance your browsing experience, we opted for a new lateral menu located on the left side. And the addition of icons will help you to quickly find the sections you will need.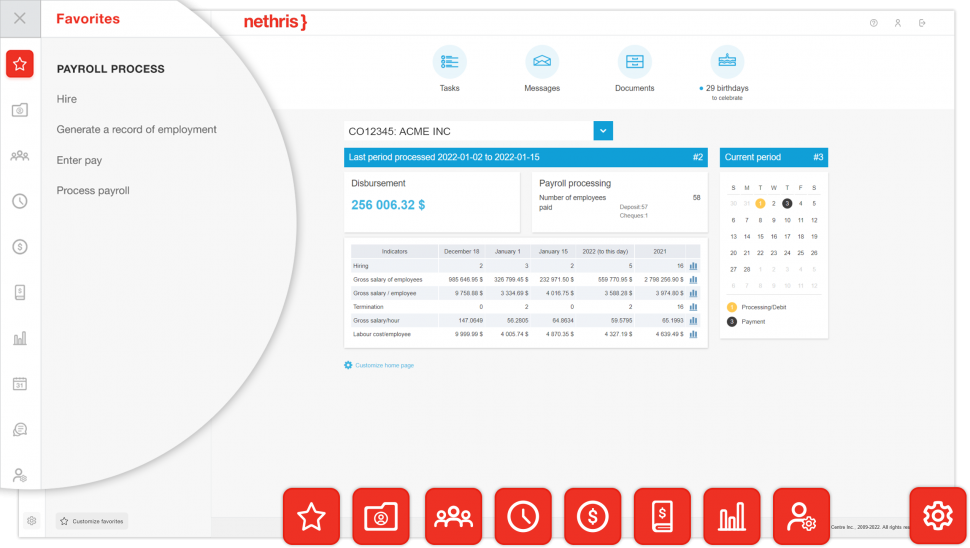 Tabs
New tabs now act as separators in your employees' files enabling you to switch, for example, from the Personal information record to Employment and compensation while remaining in the same screen. This will allow you to browse through an employee's file more quickly. And that's not all! The tabs have also been added to the Pay and adjustments screen.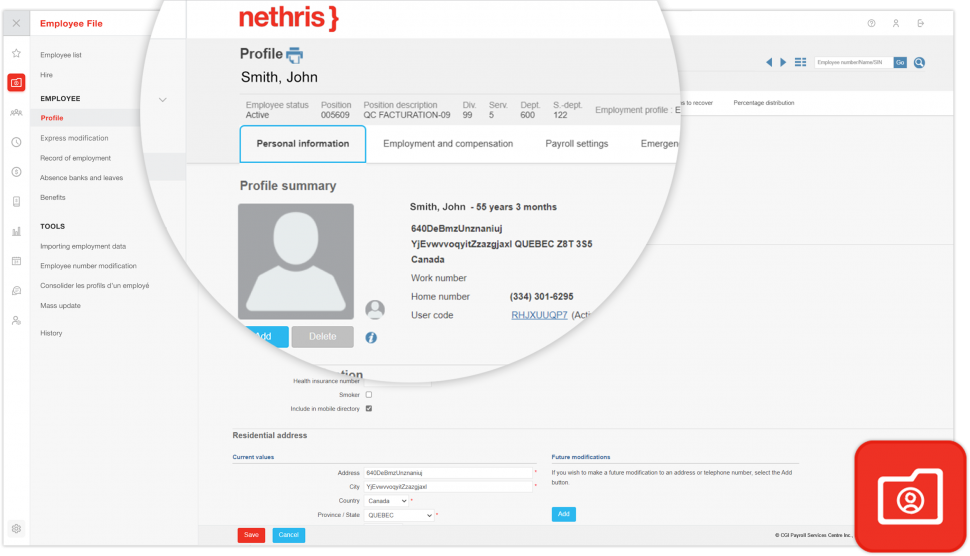 Pre-processing
The "pre-processing" action, previously located in the Payroll processing function, has been moved to the Verification section in the Preview payroll function. Now you can generate complete and partial previews before proceeding to the processing itself with the Payroll processing function. This is how we are making your life easier!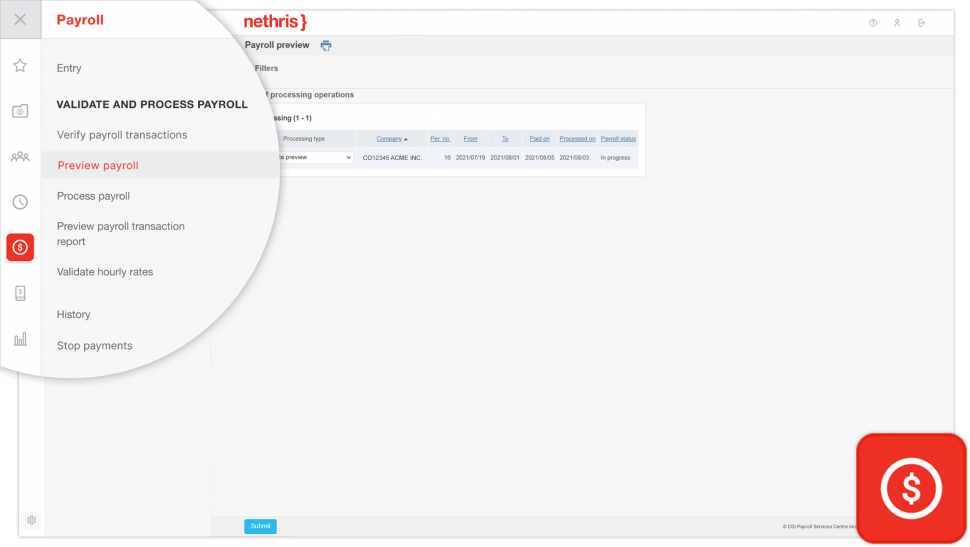 Employee file
Employee files that were previous under the HR section are now separate and have a specific icon that puts all of your employees' information at your finger tips. For users of the Human resources Pro solution, the functions are now also separate and have their own respective icons.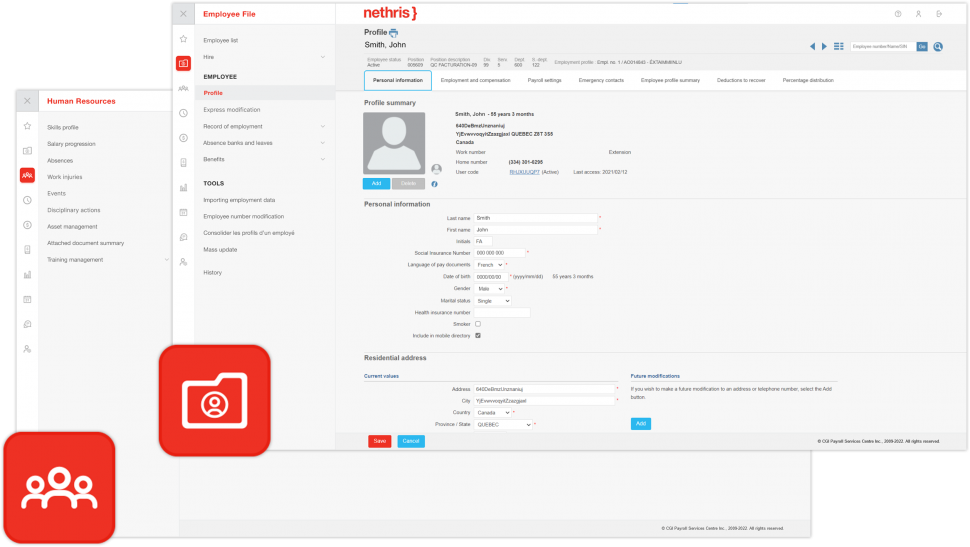 Configuration
For added convenience, all of your settings' Configuration functions are now located in a specific section so that you no longer have to access different pages in the solution to change the settings. Whether it is for managing positions or configuring your payroll schedules, everything is in one place.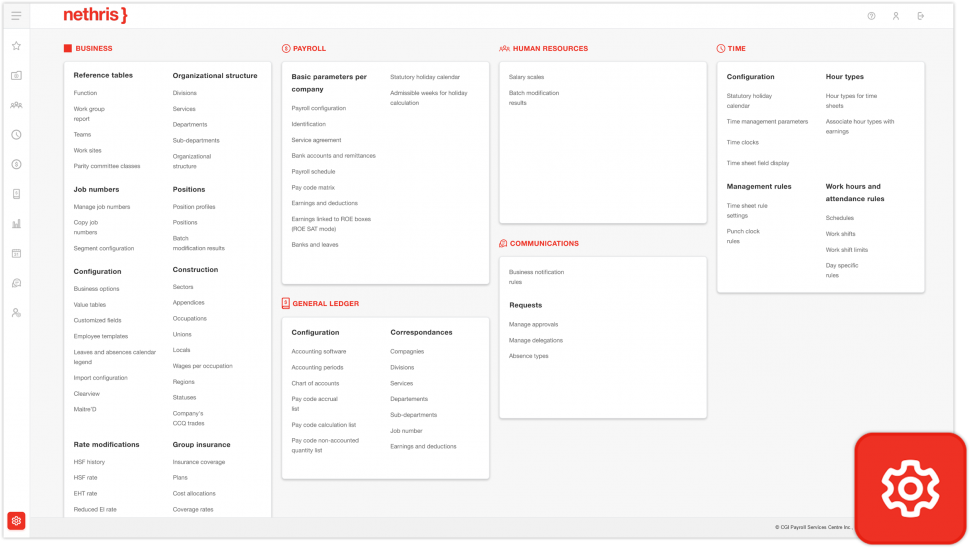 Communication
A brand new section called Communication has been created. This one-stop-shop section replaces the functions for communicating with your employees that were located in various places throughout the Nethris Internet Suite.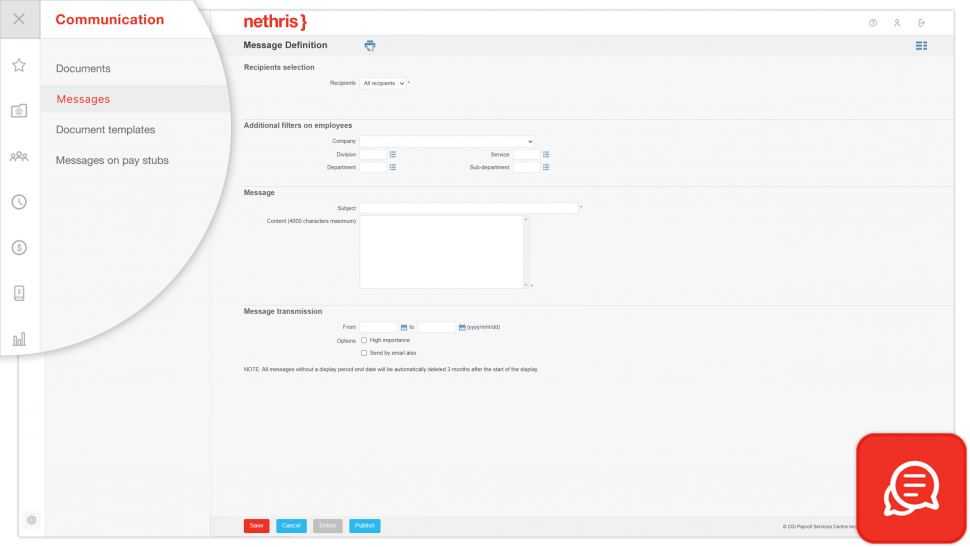 A more accurate terminology
If payroll management jargon is not your cup of tea, our review of the terminology will now allow even novice users to clearly understand the wording! We have clarified some of the more complex terms and here are a few examples:
Absence settings → Display and % of bank accumulation
Employee attendance → Leaves and absences calendar
HR import → Importing employment data
Payroll entry template → Entry template
Current pay → Enter pay
And many others!
To learn more, visit the page dedicated to these new features.